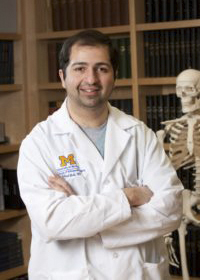 (Indianapolis, IN — March 4, 2019) – The NFL Physicians Society (NFLPS) awarded the Arthur C. Rettig Award for Academic Excellence to Asheesh Bedi, M.D., Team Orthopedic Physician and Medical Director for the Detroit Lions. His research was presented at the NFLPS scientific meeting during the 2020 NFL Scouting Combine in a presentation, "Blood Flow Restriction Training Does Not Improve Quadriceps Muscle Function after Anterior Ligament Reconstruction: A Randomized Controlled Trial".
The prestigious award is given annually to an NFL team physician for academic excellence in research in advancing the health and safety of players in the NFL.
"It is a great honor for our work to be recognized by my distinguished colleagues of the NFL Physician Society.  We all share the common goal of delivering the best care and advancing the science for the health and safety of our NFL athletes on and off the field. I am fortunate to have a great team and collaborations at Michigan, and we are humbled to have made a small contribution that helps move us forward," said Dr. Bedi.
Dr. Bedi has been a Team Orthopedic Physician of the Detroit Lions for seven years and is also Head Team Orthopedic Physician for the University of Michigan Athletic Department.
"Muscle weakness after injury or surgery is a major rate-limiter for the safe and expeditious recovery of athletes to the field," said Dr. Bedi about his research. "Furthermore, residual weakness and deficits in strength can contribute to arthritis, recurrent injury, and pain that extends beyond the immediate concerns of impaired performance. Blood flow restriction therapy (BFRT) is a tool that has offered great promise and potential and is now employed in training rooms and clinics across the country for injured athletes and military veterans alike. Our work is focused in defining the mechanisms of action of BFRT at a cellular and molecular level. In parallel, we are pursuing clinical trials to define the optimal frequency, duration, and timing of this intervention that will offer maximal benefit for athletes."
The Arthur C. Rettig Award was established in 2013 to recognize an NFL team physician for excellence in academic research and advancing the health and safety of players in the NFL. Dr. Arthur Rettig is a highly respected orthopedic surgeon who specializes in sports medicine and disorders of the upper extremities. He has been a leading member of the Colts medical staff since the team arrived in Indianapolis in 1984, and recently stepped down as head team physician.
Last year's winner was Dr. James P. Bradley, Head Team Orthopedic Surgeon for the Pittsburgh Steelers.